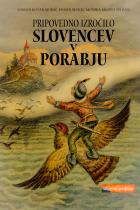 Title:
Authors:
Year:
Compilation:
Keywords:
Language(s):
Description
In this book are published folktales and legends from Porabje / Rába-vidék which were recorded in 1970 by Milko Matičetov on magnetic tapes. The material has been for many decades stored in the archive of the Institute of Slovenian Ethnology ZRC SAZU in Ljubljana. It was only with the help of the experts from Porabje, well-versed in these dialects, that it was possible to publish the recordings.
Presented are 238 narrative units, transcribed from tapes in a simplified dialectal transcript. All of the texts are also published in the standard Slovenian language. Two narratives are transcribed in the phonetic dialectological transcription. Added is CD with the recordings of 13 folktales in both varieties of Rába dialect (from Apátistvánfalva and Felsoszölnök district).
The introductory section includes studies addressing the development of the narrative culture of Slovenes in Porabje, their language and brief history, as well as a presentation of the storytellers who had narrated these folktales and legends to Milko Matičetov. The folktales have been included in the international database, in accordance with the existing scientific international typology, and are therefore available for further comparative research.
This book preserves narrative tradition of Slovenes in Rába-vidék, and is of particular importance to young people, who often no longer speak in the vernacular language.
Table of content
CD
 1 ► ʘ3 Lasica pa požak letita / Lisica in polž tekmujeta
 2 ► ʘ6 Dvej müši / Dve miši
 3 ► ʘ7 Čaroven dau / Čarobni dol
 4 ► ʘ10 Stolnjek, prestri se / Prtič, pogrni se
 5 ► ʘ11 Krau, ka se ma je eno okau djaukalo / Kralj, kateremu se je eno oko jokalo
 6 ► ʘ12 Grof pa slüžička dekla / Grof in služkinja
 7 ► ʘ15 Kralič pa Lejpa Vida / Kraljevič in lepa Vida
 8 ► ʘ19 Živo je gnauk en casar / Nekoč je živel cesar
 9 ► ʘ49 Sojenice / Sojenice
10 ► ʘ60 Baba pa vrag / Baba in vrag
11 ► ʘ70 Maček / Maček
12 ► ʘ73 Gnauk sta bila oženjeniva / Nekoč sta bila dva oženjena
13 ► ʘ86a Stara baba, stari ded / Stara baba, stari ded
More ...
Mukics Dusán: Rába-vidéki szlovén népmesék és mondák tárháza. Barátság 2018/3. 9346-9347
A. Nana Rituper Rodež: Zgodbe razkrivajo čustva in način življenja; Vestnik 14.6.2018, 17
E. Ružič: Pripovedno izroćilo Slovencev v Porabju; Porabje. Tednik Slovencev na Madžarskem, XXVIII/24, 14.6.2018, 3
Boštjan Rous: Pripovedno izročilo Slovencev v Porabju; TV Slovenija, Odmevi 7.6.2018
Silva Eöry: Ohranitev porabskega narečja s pomočjo pripovedk; RTVS, Slovenci v sosednjih državah, 26. 4. 2018
Ohranitev porabskega narečja s pomočjo pripovedk; Moja Slovenija, 25. 4. 2018
Domača stran slovenske samouprave / Országos Szlovén Önkormányzat honlapján: Predstavitev knjige Pripovedno izročilo Slovencev v Porabju / A Rába-vidéki szlovének népköltészete című könyv bemutatója (13.4.2018)
dm: GNAUK JE BILAU ... EDNO MALO LÜSTVO; Porabje, tednik Slovencev na Madžarskem, XXVIII/16, 19.4.2018
K. R.: Pripovedno izročilo Slovencev v Porabju; Delo 6.3.2018
Publishing House
Založba ZRC
Co-publisher
Državna slovenska samouprava (Gornji Senik; Porabje na Madžarskem)
ISBN
978-961-05-0056-8
Specifications
hardback • 17 × 24 cm • 392 pages • CD
Price
29,00 EUR (Regular); last copies
25,00 EUR (Club)