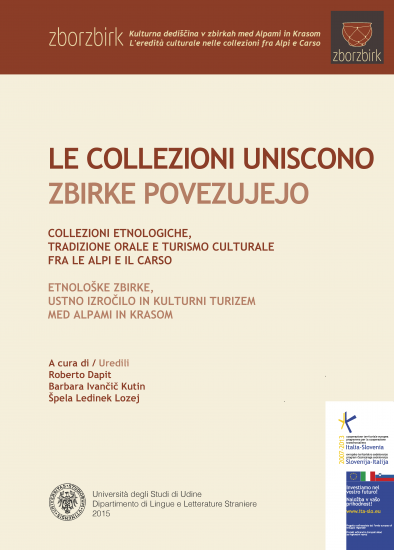 Le collezioni uniscono. Collezioni etnologiche, tradizione orale e turismo culturale fra Alpi e il Carso.
Zbirke povezujejo. Etnološke zbirke, ustno izročilo in kulturni turizem med Alpami in Krasom.

Edited by: Roberto Dapit, Barbara Ivančič Kutin, Špela Ledinek Lozej
Year: 2015

The book ('Collections unite. Ethnological collections, oral tradition and cultural tourism between the Alps and the Karst') offers a selection of extended and updated contributions, which were presented at the international conference "Ethnological collections, oral tradition and cultural tourism between the Alps and the Karst" held in Udine on 29 May 2014. The conference was organized by the University of Udine in collaboration with the Scientific Research Centre of the Slovenian Academy of Science and Arts within the ZBORZBIRK project, which was funded under the 2007-2013 Italy-Slovenia Cross-border Cooperation Programme.
The publication consists of 16 articles. The first, written by Mojca Ravnik, describes the project's history and is published in Italian and Slovene. The other articles are divided into three thematic sections, which also represent the main aims and activities of the ZBORZBIRK project.
In the first section, the authors address the problem of research, conservation and promotion of cultural heritage in relation to tourism. The integration of tourism and heritage practices is a major challenge to modern ethnological and anthropological research. In the second section, the authors focus on the intangible heritage, primarily on oral and linguistic tradition that enriches the collections of the project area. The third section addresses the culture of the project area. By highlighting museum practices and other forms of cultural heritage protection by public or private institutions or individuals, the authors address to a variety of issues that require common methodological solutions.
Articles are published in Slovene with a summary in Italian and in Italian with a summary in Slovene.
---
Other authors

individual contributions

Irena Lačen Benedičič

,

Roberto Dapit

,

Tanja Gomiršek

,

Gian Paolo Gri

,

Saša Poljak Istenič

,

Karla Kofol

,

Nataša Gliha Komac

,

Danila Zuljan Kumar

,

Barbara Ivančič Kutin

,

Špela Ledinek Lozej

,

Inga Miklavčič-Brezigar

,

Sandro Quaglia

,

Mojca Ravnik

,

Tanja Rijavec

,

Zdenka Torkar Tahir

,

Monika Kropej Telban

Publishing House:

Università degli Studio di Udine, Dipartimento di Lingue e Letterature Straniere

ISBN

978-88-904461-2-2

Year

2015

Specifications

paperback 17 × 24 cm 307 pages

Home page

E-publications

Permalink