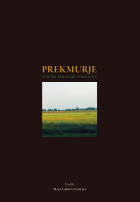 Title:
Edited by:
Other authors:
Year:
Keywords:
Language(s):
Description
Conveying an interesting story about Prekmurje, the book comprises essays written by eighteen domestic and foreign authors who examine a wide range of cultural, social, historic, and natural characteristics of this Pannonian region. This part of Slovenia, whose diverse geographical and cultural features impress chance visitors and tourists alike, has always had historical, economic, and cultural ties with the wider European space, which has had a profound impact on the life, mentality, and creativity of the local population. The texts explain why the folk songs of Prekmurje are so different from those in other parts of Slovenia; why there are so many peculiarities in the cuisine, festivals, and customs of Prekmurje; which are the characteristics of the local dialects and their application in public life; what was the lifestyle of the local families in the past, and what are their expectations in the present; how its rich history informs the Prekmurje of today; and what are the main peculiarities of the local vegetation. The texts reveal this Pannonian region as a transitional area with strong ties with the neighboring cultural areas that have importantly shaped the unique cultural and natural characteristics of Prekmurje.
Table of content
Maja Godina Golija
POGLED S POSTAJE – PROSTRANOST, PREHODNOST, POVEZANOST
Marija Klobčar
PESEMSKO IZROČILO PREKMURJA: OBZORJA SPREMINJANJA IN REFLEKSIJE DEDIŠČINE
Irena Avsenik Nabergoj
INTIMA IN MIGRACIJE: PODOBE PREKMURSKIH SEZONSKIH DELAVK V IZBRANIH DELIH MIŠKA KRANJCA
Mojca Horvat
PREKMURSKA HIŽA – PREKMURSKO NAREČNO BESEDJE SPOMENSKEGA POLJA »MATERIALNA KULTURNA DEDIŠČINA«
Jelka Pšajd
LIK VABOVCA VPOROČNEM OBREDJU NA GORIČKEM
Maja Godina Golija
PRAZNOVANJE IN OBHODI LUCIJ – PANONSKAPOSEBNOST MED KOLEDARSKIMI PRAZNIKI NA SLOVENSKEM?
Rebeka Kunej
ETNOKOREOLOŠKO RAZISKOVANJE PREKMURJA IN PORABJA:PREKOMURE – PREKOOCEANA
Mateja Huber
SEJMI V PREKMURJU V PRVI POLOVICI 20. STOLETJA
Marija Kozar - Mukič
PREHRANA V PREKMURJU IN PORABJU
Ljudmila Bokal
O BITJU IN ŽITJU PREKMURSKEGA ČLOVEKA, KAKOR SE KAŽE V ZBIRKI FOLKLORNIH PRIPOVEDI »BREZGLAVJEKI«
Klaudija Sedar
CERKVENA UREDITEV PREKMURJA SKOZI ČAS
Jani Kozina
DELAVSKE IN BIVANJSKE ZNAČILNOSTI PREBIVALCEV POMURJA
Ivanka Huber
DRUŽINSKO ŽIVLJENJE NA GORIČKEM V 20.STOLETJU
Gleb Pilipenko
DVOJEZIČNOST V PREKMURJU
Franc Kuzmič
NASELJEVANJE IN IZSELJEVANJE V PREKMURJU SKOZI ČAS
Metka Lokar
PRIMORCI IN ISTRANI VPREKMURJU – PRIŠLEKI, KI TO NISO VEČ
Andraž Čarni, Nina Juvan
GOZDNA VEGETACIJA PREKMURJA
Daniela Ribeiro, Julia Ellis - Burnet
KULTURNI PREDMETI V ESTETSKI POKRAJINI
AVTORJI IN AVTORICE
More ...
Prekmurje; Recenzije, Demokracija 19/XX, 7. 5. 2015
Publishing House
Založba ZRC
ISBN
978-961-254-759-2
Specifications
hardback • 16,5 × 23,5 cm • 270 pages
Price
24,00 EUR (Regular)
19,00 EUR (Club)