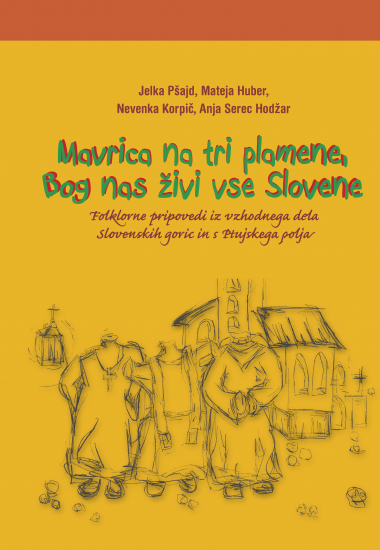 Mavrica na tri plamene, Bog nas živi vse Slovene. Folklorne in spominske pripovedi z vzhodnega dela Slovenskih goric in Ptujskega polja.

Authors: Anja Serec Hodžar, Mateja Huber, Nevenka Korpič, Jelka Pšajd
Year: 2017

This book of folklore tales encloses the middle part of Slovenske gorice, mostly the area around river Mura, Radensko and Mursko polje, together with the fringe of territory close to the river Ščavnica, and majority of east part of Slovenske gorice, the so called Prlekija with Ljutomer and Ormož. However, this would not fill out the empty spot in the project Glasovi / Voices, that is why we also reached the territory all the way west to the lowlands of Slovenske gorice – Ptujsko polje, in the so called Lükarija (plane area between Ptuj and Ormož). Jelka Pšajd, Mateja Huber, Nevenka Korpič and mag. Anja Serec Hodžar have gathered 297 tales and wrote them down in the period from 2012 till 2016. They are sorted to informative, mythic, superstitious, fearful, legendary, historical, social and funny tales. The first tales that disappeared in this part of Slovenske gorice are stories about witches. The heterogeneous dialects of Slovenske gorice are also reflected in the writings. There are three writing types in this book: completely in dialect; literary combined with dialect (included are typical dialect words) and literary (without dialect words).
---
Publishing House:

Založba ZRC

Publisher

ISBN

978-961-254-989-3

Year

2017

Series

Glasovi 48

Language(s)

Specifications

hardback 14 × 20,5 cm 204 pages

E-publications

Permalink