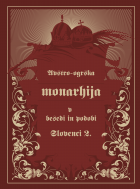 Title:
Edited by:
Other authors:
Year:
Keywords:
Language(s):
Description
Two years after the first book "Austro-Hungarian Monarchy in Word and Image: Slovenes 1, Styria, Porabje and Prekmurje, Carinthia" (2016) has been published, is now out also the second book: "Austro-Hungarian Monarchy in Word and Image: Slovenes 2", presenting Kranjska (Carniola) and Primorje (Coastal region). Both books make the whole picture of Slovenes as included in the monumental book series "Die österreichisch-ungarische Monarchie in Wort und Bild" which was projected by the archeduke Rudolf and was published between 1884–1902. Translated are the chapters which discuss life, culture and economy of Slovenes living in Austro-Hungarian monarchy. Prevailing are the ethnographical descriptions of the regions, the presentation of inhabitants and their position in the context of the Austro-Hungarian monarchy and other countries of that time. The authors are of different profiles and interests, and their studies are important sources for Slovenian culture and economy which was up till now too often overlooked.
Table of content
Uredniška opomba
AVSTRO-OGRSKA MONARHIJA V BESEDI IN PODOBI
Fizične značilnosti prebivalcev na Koroškem in Kranjskem / Emil Zuckerkandl
KRANJSKA
K narodopisju Kranjske
Ljudsko življenje Slovencev / Viljem Urbas
Miti, povedke in ljudske pesmi Slovencev / Johann Scheinigg
Kočevje in Kočevarji / Julius Schröer
Slovenska literatura / Gregor Krek
Ljudsko gospodarsko življenje / redigiral Karl Menger
Poljedelstvo in gozdarstvo, lov in ribolov / Gustav Pirc
Rudarstvo in metalurgija / Johann Novák
Industrija, trgovina in promet / Johann Murnik
PRIMORJE
O fizičnih značilnostih prebivalcev Primorja / Emil Zuckerkandl in Karl Vipauz
K narodopisju Primorja
Ljudsko življenje na Goriškem in Gradiškem / Franz Coronini-Cronberg
Značilnosti ljudstva v okolici Trsta / Peter Tomasin
Ljudsko življenje Slovanov v Istri / Alois Spinčić
O književnosti v Trstu in Istri
Slovanski jezik in književnost / Anton Klodić Sabladovski
DODATEK
Uvod / Nadvojvoda Rudolf
KOMENTAR
Janez Bogataj, Za krepitev samozavesti in moč splošne ljubezni do domovine
More ...
Iztok Ilich: Knjižne ocene in poročila; Glasnik SED, 25/3-4 (2018), str. 78-79
Milan Vogel: Poskus povezovanja različnih narodov; Delo 4.9.2018
Publishing House
Založba ZRC
ISBN
978-961-05-0072-8
Specifications
hardback • 24,5 × 18 cm • 318 pages
Price
26,00 EUR (Regular)
21,00 EUR (Club)